Armstrong Alex is an article prescribed by DamonDraco
This page, Armstrong Alex, is currently under construction. Please bear with the changes made by the author.
"."
Armstrong Alex (アームストロング・アレックス Āmusutorongu Arekkusu)
Appearance
Edit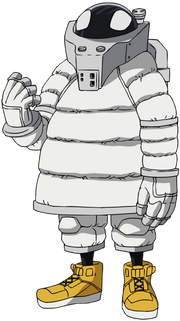 Personality
Edit
Like many characters, Alex has a unique laugh, expressed as "Shirororororo!".[1]
Alex seems to be a very dutiful person, shown when he quickly went to show the latest news to his captain, knowing it was something related to him, albeit in the slightest.[2] When speaking, Alex tends to get carried away and raise his tone, though without secondary intentions.
He seemed to be surprised at his captain's reaction at the ex-Shichibukai Salazar's death, hinting that him more than anyone should know death isn't anything new to them.[3]
Synopsis
Edit
Powers & Abilities
Edit
Physical Abilities
Edit
Ways of Combat
Edit
Devil Fruit
Edit
While its name is unknown, Alex's Devil Fruit is said and shown to be a Paramecia which allows him to control Gravity.
Assorted Others
Edit
Relationships
Edit
Major Battles
Edit
He is based on Thirteen from the My Hero Academia Series.
Alex's names has two origins, both of which are non-pirate:

His surname Armstrong is a direct reference to the astronaut: Neil Armstrong.
His name as a whole references Alex Louis Armstrong from the Fullmetal Alchemist Series.
References
Edit
Ad blocker interference detected!
Wikia is a free-to-use site that makes money from advertising. We have a modified experience for viewers using ad blockers

Wikia is not accessible if you've made further modifications. Remove the custom ad blocker rule(s) and the page will load as expected.