Bain Bain no Mi is an article presented and written by DamonDraco
This page, Bain Bain no Mi, is currently under construction. Please bear with the changes made by the author.
Bain Bain no Mi (バイバイの実 Jungle-Jungle Fruit) is a Paramecia type of Devil Fruit, which allows its eater to summon and manipulate any kind of plant vine. The user is called a Vine Human (蔓人間 Tsuru Ningen) and currently goes as Draco D. Indiana.[1]
Appearance
Edit
Indie mentioned that the fruit looked like some sort of green peach, but since it was a long time ago he doesn't remember it well.
Strengths
Edit
Weaknesses
Edit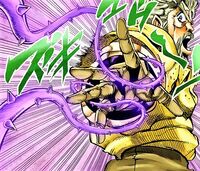 Techniques
Edit
Bain Bain no Gatling (バイバイのガトリング (蔓銃乱打) Bain Bain no Gatoringu lit. Gun-Battering Vine): . It was first used in his battle against Ferrothorn Solomon on El Dorado's mines.
Kaku Bain (かくバイ (角蔓) Kaku Bain lit. Square Vine): . This technique was first used to counter Solomon's Rankyaku.
Etymology
Edit
Bain comes from the Japanese Katakana for Vine (バイン).
References
Edit