Kazama is an article prescribed by Arukana
Kazama, previously known as "Fūma Kotarō" (風魔・小太郎, Fūma Kotarō?) is a Pirate who hails from Karate Island who decided to leave after having a falling out with his family. After teaming up with Dravolos Ashraf, Kazama decided to join him as they gained allies to form the Black Crown Pirates. Among them, he is considered the First Mate.
Appearance
Edit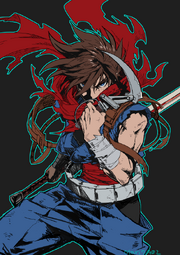 Personality
Edit
Powers and Abilities
Edit
Equipment
Edit
Major Battles
Edit
Behind the Scenes
Edit
Ad blocker interference detected!
Wikia is a free-to-use site that makes money from advertising. We have a modified experience for viewers using ad blockers

Wikia is not accessible if you've made further modifications. Remove the custom ad blocker rule(s) and the page will load as expected.