Welcome

Welcome to the One Piece Role-Play wiki!
---
Forum · Manual of Style · Administrators · Copyrights · Templates
---
Fifty years have passed since the notorious Monkey D. Luffy was crowned as the Pirate King. Those who wrecked havoc upon the seas are now long gone, creating opportunity for another generation. The Straw Hats themselves have disappeared --whether they have died or retired is currently unknown. One Piece, however, was once more confirmed to exist and once more hidden away from plain view, leading to a new era of pirates. The world has been impacted significantly, and new forces have been established in order to maintain the balance.
Are you a fan of the One Piece franchise? Have you ever wanted to create your own pirate, marine or even your own devil fruit? Well, look no further, because your dream has finally arrived. We only ask that you provide us with your best effort and nothing less. Enjoy your stay!
---
We currently have 56,334 edits to 2,031 articles and 6,686 images on this wiki. Operating since April 14th, 2015!

Featured Article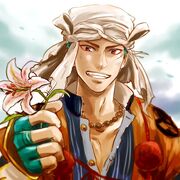 Fukuoka Soren (フクオカ・ソレン, Fukuoka Soren), also known as "Daddy L. Soren" (盲・L・ソレン, Yūrei L. Soren) is a shinobi of the Fukuoka Family.
He is later revealed to the child of both Kosaka Isshin and Daddy L. Legs. Due to his heritage and actions on Bedina, Soren gained a staggering first bounty of

300,000,000, proving himself to be a threat to World Government operations. His sudden leap in notoriety is such that, along with Apu, Benjamin Tabart and Draco D. Damon, he is recognized as one of the Four Horsemen said to become a threat to the nigh-invincible Xros Pirates.
Main article: Fukuoka Soren
Main Poll
Many of our role-plays!
Battles organized by the Marines! Which of these do you look more forward to in March to War?!