Welcome

Welcome to the One Piece Role-Play wiki!

Forum · Manual of Style · Administrators · Copyrights · Templates
---
Fifty years have passed since the notorious Monkey D. Luffy was crowned as the Pirate King. Those who wrecked havoc upon the seas are now long gone, creating opportunity for another generation. The Straw Hats themselves have disappeared --whether they have died or retired is currently unknown. One Piece, however, was once more confirmed to exist and once more hidden away from plain view, leading to a new era of pirates. The world has been impacted significantly, and new forces have been established in order to maintain the balance.
Are you a fan of the One Piece franchise? Have you ever wanted to create your own pirate, marine or even your own devil fruit? Well, look no further, because your dream has finally arrived. We only ask that you provide us with your best effort and nothing less. Enjoy your stay!
We currently have 39,568 edits to 1,382 articles and 4,431 images on this wiki. Operating since April 14th, 2015!

Featured Article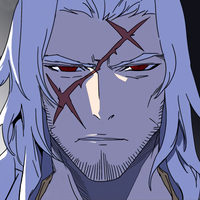 "Blade Thief" Kosaka Isshin is an elite operative of the Black Widow Pirates that currently acts as their Head of Operations under the alias "Izanami" (イザナミ, Izanami?). He is a founding member of the crew and one of their most vital, for he is in charge of the vast empire's operations and is a proxy for Daddy L. Legs when the situation requires it.
He allegedly possesses a former identity by the name of Charmers Dion, who was once a Vice Admiral in the Marines, but the details behind this aspect of the man are concealed. Though, it appears as if this identity is connected to former Admirals Alfred Glave and Warren D. Ralph.
Main article: Kosaka Isshin
Main Poll
The most feared crew in the entire world!
Who is your favorite member of Legs' Crew, the Black Widow Pirates?
Poll
This week in the Canon-Fanon, we have a fighting contest between mighty characters!
---
What if Ace hadn't been caged? Who would have won?
They are feared and respected across these seas, who would in an one-versus-one?
Check out our Poll Archives for the results of past polls!
Ad blocker interference detected!
Wikia is a free-to-use site that makes money from advertising. We have a modified experience for viewers using ad blockers

Wikia is not accessible if you've made further modifications. Remove the custom ad blocker rule(s) and the page will load as expected.