Welcome

Welcome to the One Piece Role-Play wiki!
---
Forum · Manual of Style · Administrators · Copyrights · Templates
---
Fifty years have passed since the notorious Monkey D. Luffy was crowned as the Pirate King. Those who wrecked havoc upon the seas are now long gone, creating opportunity for another generation. The Straw Hats themselves have disappeared --whether they have died or retired is currently unknown. One Piece, however, was once more confirmed to exist and once more hidden away from plain view, leading to a new era of pirates. The world has been impacted significantly, and new forces have been established in order to maintain the balance.
Are you a fan of the One Piece franchise? Have you ever wanted to create your own pirate, marine or even your own devil fruit? Well, look no further, because your dream has finally arrived. We only ask that you provide us with your best effort and nothing less. Enjoy your stay!
---
We currently have 42,527 edits to 1,491 articles and 4,815 images on this wiki. Operating since April 14th, 2015!

Featured Article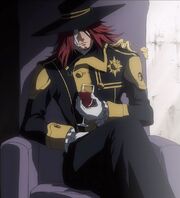 Valentine B. Carter is a marine instructor who still retains his rank as Vice Admiral. He trains marines at Marine Headquarters but was moves around the world to many different marine bases. He is a quite legendary instructor, being extremely tough but producing some of the best marines in years. He does tend to travel all around the world, visiting other marines and offering to make deals with them. He earned the epithet of "The Calamity Fiddler" from his younger days when he used to appear on pirate ships while playing his fiddle. Shortly after they would be bombarded by marines but helpless due to his music. As a Vice Admiral, Valentine is known as Akaoni. Though he is usually only referred to as such in official business.
Main article: Valentine B. Carter
Main Poll
The current and mainstream story of the wiki itself!
Amongst the major events at Across the Line, which has been your favourite?