The Taku Taku no Mi is a Paramecia-type Devil Fruit that allows the user to craft objects and shapes out of whatever the user can touch, turning them into a Craftsman Human (細工師人間, Saikush Ningen). "Taku" is derived from Takumi, which means "Craft" or "Artisan", among other similar things. It's current user is the Desert King, Amun-Ra Malik.
Strengths and Weaknesses
Edit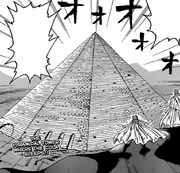 According to Malik, despite the Taku Taku no Mi looking like any other fruit, it tasted hard and crunchy like sand.
Ad blocker interference detected!
Wikia is a free-to-use site that makes money from advertising. We have a modified experience for viewers using ad blockers

Wikia is not accessible if you've made further modifications. Remove the custom ad blocker rule(s) and the page will load as expected.