Theodore is an article presented and written by SuBash
This Page, Theodore, is Currently Under Construction.
Theodore is a pirate who is the son of a notorious pirate. He has eaten the Tsudu Tsudu no Mi to become a Compression Man.
Appearance
Edit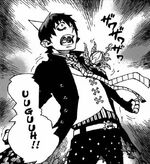 Personality
Edit
Equipment
Edit
A spiral shaped blade that Theodore uses as his primary weapon. The large coils wrap loosely around his arm when he is holding it, with it straightening out into a proper blade at his elbow. This section of the weapon is V-shaped, allowing his forearm to fit within, and has a handle to hold on to. The edge along his backhand is razor sharp, tapering to a stinging point. The whole thing was created by Theodore, using his powers on a large slab of raw metal, making it extremely dense and much heavier than it would appear to be. He keeps it compressed, and wears it around his finger as a ring.
Powers & Abilities
Edit
Physical Capabilities
Edit
Devil Fruit
Edit
Fighting Style
Edit
Other Skills
Edit
References
Edit
Behind The Scenes
Edit
His appearance is based off of Amaimon from Ao no Exorcist.