Thera is an article presented and written by DamonDraco
This page, Thera, is currently under construction. Please bear with the changes made by the author.
"."
Thera (テーラ Tēra)
Appearance
Edit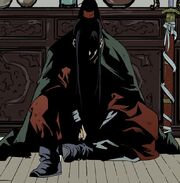 Personality
Edit
Powers and Abilities
Edit
Natural Abilities
Edit
Ways of Combat
Edit
Expert Weapons Specialist:
Assorted Others
Edit
Relationships
Edit
Major Battles
Edit
He is based off of Son Jinhong from the Gosu Series.